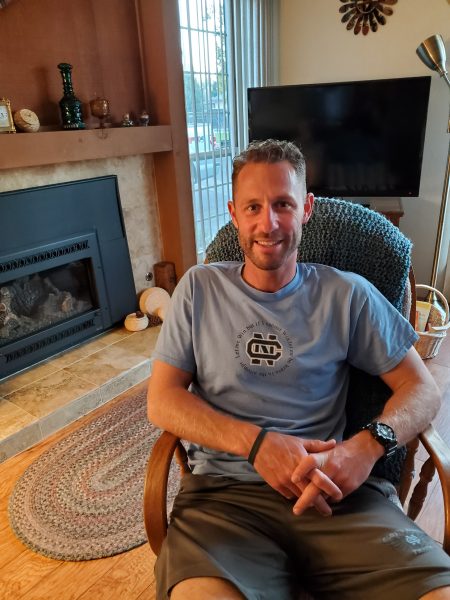 Written by Dale Buchanan
Born in Modesto, California, Russell grew up in Clovis where he lives today with his wife Ann and two daughters, Clara and Caroline. Let me be clear from the outset that Russell's story is a love story. A summary of the notes that Gayle handed me to use in putting together this column would be just one word:  LOVE.
My first prompt to Russell as we sat in Gayle's front room was, "Tell me about the women in your life."  That was more or less the only prompt he needed. Ann, Clara, and Caroline are the heart and soul of this 36-year-old special education teacher and pole-vaulting coach's story. 
Along the way, Russell inadvertently shared much about himself thus inspiring this sketch of our "From the Pews" person. "Ann grew up in Rocky Mountain, Virginia. I grew up in Clovis, California. There is no way our paths would ever cross. The odds of our meeting were nil and the chances of any kind of relationship were beyond astronomical. And yet, in the summer of 1998 the miracle beyond probability happened. I traveled to a National Youth Conference in Colorado sponsored by the Church of the Brethren. The conference attracted 4,000 youth from all over the United States. Now, I admit that when we both arrived on that college campus in Colorado the odds of our meeting increased significantly. She was 15 and a sophomore and I was 14 and a freshman. Still not very good odds. 😊 
While a group of us were exploring the campus, we met a group of Virginia girls. As we talked, I noticed this quiet girl. She was cute. Actually, she was very cute. I had beat the odds—a boy from California had met a girl from Virginia. We ran into each other the next day. She remembered my name, but I had forgotten hers. She told me her name and we walked in the rain. Magic happened. We were together every free moment the rest of the week, and I was devastated when she went home to Virginia. I wrote a letter that almost beat her home. 'Peach, I love you!'  That settled it. She was my girl and I was her guy. 
Next began my effort to get her to California for a visit. Of course, no self-respecting Southern woman was going to send her daughter all the way to California on the assurances of a 14-year-old boy. Then another miracle—her mother knew a Brethren family in Modesto who knew my family. The deal was sealed. On the day after Christmas 1998, I met Ann at the airport. I said then and I still say, 'Wow, this is great.'  Those wonderful ten days were like a fairy tale come true. Hand-in-hand we went to Kings Canyon, Shaver Lake, Disneyland, Morro Bay, and San Francisco (with my parents as chaperones, of course!)
I could not wait until summer vacation and a cross-country flight to see Ann again and meet her family. On that late-night drive from the airport, I was awestruck at my first sight of fireflies. Things just kept getting better. My first sight of the huge, beautiful farm house she called home left me speechless. Her mom and grandma made me feel at home and the extended family embraced me with hugs. Ann took me everywhere. The honesty and genuineness that I saw in Ann on that visit continues to impress me. 
I went home more in love than ever and sure that it would never change. However, I got that inevitable call that she was going off to college and we broke up. We always kept in touch, and it seemed the tie was never broken. 
Again, fate intervened at the National Youth Conference that I went to in my freshman year in college. Ann wasn't there, but I overheard some girls talking about Virginia and one of them just happened to be Ann's best friend. All those feelings came back. I called Ann from a pay phone and left a message. A full year later she called, 'I'm graduating from college early and coming to California with a couple friends for Spring break.'  I drove my 1995 white jeep ranger with no top to San Diego and found her on the beach. When I saw her, I knew where my head and heart were, and we fell in love again. Together again, we drove to Morro Bay to meet my folks on what I consider the best 6-hour drive of my life. Too soon she had to fly home. We drove to San Francisco. At the boarding gate we kissed and embraced. She whispered, 'I love you,' and I said, 'I love you too.'
The story of my proposal to Ann on her grandma's front porch and our wedding is best told by Peach. We had challenges as a young married couple, but Ann's love saw us through every difficulty we faced. While training as a pole vaulter for the 2008 Bejing Olympics, I had to drop out because of a serious injury. What next?  My dream job to be a park ranger was realized when I was offered a part-time job in Kings Canyon. My four-year career in the National Park Service was glorious, but it was only part time and we were expecting a baby. What next? While coaching pole-vaulting and working as a teacher's aide, I got a Master's degree in special education and am now in my fifth year of teaching at Clovis North High School. 
Clara and Caroline are the other two loves of my life!  Clara is 6 years old and Caroline is 4. Clara was born in Kings Canyon when I was park ranger there. I didn't think I could love a second child as much, but then Caroline showed up two years later, I found I could. They are everything to me!  I am an adventurer and my two girls are my adventure buddies. I take them everywhere! They were born with my adventure gene and thankfully with their mother's good looks and brains. The truth is that like their mother, they have me wrapped around their little fingers!