From Randy Oftedal, Big Red Pantry Chairperson
Jesus never said it would be easy. In fact, he said, "If any of you wants to be my follower, you must put aside your selfish ambition, shoulder your cross daily, and follow me." 
We are getting responses from members to help us build a Big Red Pantry to serve the needy among us. As a result of these responses, we are in the process of forming a Pantry Committee. We welcome any and all who want to join us. We will begin holding meetings in the near future to decide what direction we want to go regarding the role and purpose of our Big Red Pantry.
Many great things are taking place already at the More Month Than Money Pantry. Because of your caring contributions thus far, we have outgrown our little pantry closet.
This week the pantry moved into the extra room inside the church office. This will allow the pantry to be open all week during church office hours. In addition,we had a generous donation from the Krenz Family. We no longer need the "second shelf" in the kitchen. Thank you Tom and Michelle for the refrigerator! Herb Lilly and I picked it up and delivered it to our new pantry location. Thank you Herb for your continued help and support. I want to send a heartfelt thank you to Michelle Krenz for baking bread for our pantry guests.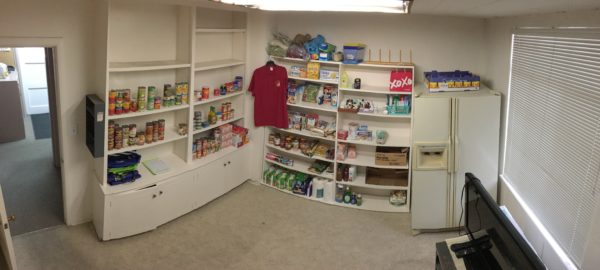 As always, thank you.
Randy Oftedal
Pantry donations can be dropped off at the church office any time during office hours, Monday-Friday, 10am-3pm.